"Why I Chose Carol Woods As My Continuing Care Retirement Community" Arnold D. Kaluzny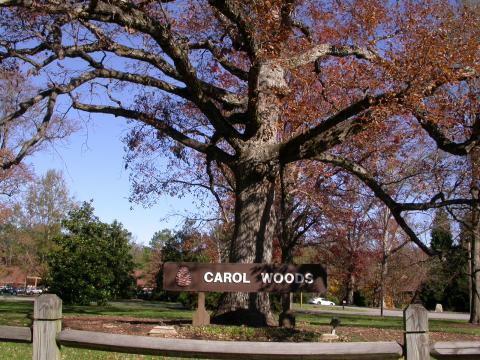 November 10, 2020 -
Meeting the Challenges of Aging
 
Life changes fast.
Life changes in an instant.
Life as you know it ends.
--Joan Didion1
The plan was to "age in place." A home built in 1938, nestled
in the heart of Chapel Hill, N.C., was remodeled at least three
times for that purpose. Purchased in the late 1970s, the house
was home to Barb and me for more than 40 years. It was there
we had the privilege to live and raise our family.
We had been married for 56 years when Barbara died on
December 22, 2016. Life, as I knew it, ended. For the next
18 months, I remained in the house without her, despite
mounting evidence that living alone was just too difficult.
In January 2018, after visiting several continuing care
retirement communities (CCRCs) in the area, I added my
name to the Carol Woods wait list, with the expectation
that a one-bedroom apartment would be available within
the next two to three years. In June, I received a call that
a one-bedroom was available. Despite the feeling that
I was "not quite ready," I realized that the downside risk
was too great – and I accepted the placement. That decision
launched the formal admission process -- and on reflection,
I have realized it was the right decision, made for the right
place at the right time. 
Aging is relentless, a process that involves a constantly changing reality and fateful events that are life-altering – the loss of a spouse and longtime friends and colleagues; declining health and fear of disability; loss of independence, financial solvency and relevance. The aging process and the personal challenges that accompany it are overshadowed or ignored in a culture that promotes perpetual youth and uninhibited spending. As Atul Gawande reminds us in his prize-winning book, Being Mortal,2 aging is a natural process. Denying it is not a viable option. 
People ages 85 and older are now in the fastest-growing segment of the U.S. population. Those 65 years and older represent 14.5% of the overall population, a number that will increase to 20% by 2030.3
The evolving demographics have given rise to the development of various institutional approaches to cope with the realities of older adults, with an aim to meet their housing, health and medical needs. Approaches range from community-based efforts to assist seniors as they "age in place," to more formalized approaches under the general rubric of Continuing Care Retirement Communities (CCRCs).
Organizational models and financial arrangements are tailored to meet individual preferences and personal financial resources. An emerging industry emphasizes and promotes resort-type qualities and access to health care, including prevention, assisted living and end-of-life care. Operating largely within an "open market" system, CCRCs across the country are regulated primarily through state licensure laws and voluntary accreditation, without any federal regulation.
What follows is a narrative describing the role of Carol Woods, its structure and operations, which are designed to address the challenges of the aging process. Launched in 1979, it aimed to provide a community-based organization for helping seniors address the reality of the aging process and to create a safe, healthful and secure environment, providing a seamless continuum of quality care and services at the lowest possible cost.4
The Setting
Located at the northern edge of Chapel Hill, situated on 120 acres of woods and landscaped gardens, Carol Woods is home to 486  on-campus residents. One hundred others have elected "early admission," remaining in their current residences but able to access Carol Woods' services and facilities prior to their moving on campus.
Cottages are clustered in various loops around the campus, surrounding a main complex composed of four apartment buildings, assisted-living facilities and a premier health center. Except for the cottages, all living quarters are connected to the main lodge, which houses the library, dining facilities, a large assembly room, lounge, various meeting rooms and administrative offices.
The main lodge provides a hub for the complex, and given its central location and easy access from both cottages and apartments, fulfills an integrative function. As longtime resident James Summerville and daughter describe, "this is a community" – a community that shares a set of core values and fosters the collective wellbeing of all residents.
Carol Woods strives to achieve diversity, providing subsidies to many residents, but by and large, the resident community is composed of accomplished and talented individuals and couples with sufficient means to meet the required financial criteria for admission. The level of talent and accomplishments teaches humility.
Residents represent various regions of the country, primarily drawn from the academic and business communities. Yet, as noted by Gordon Fisher and his wife, Sara Price, longtime residents, "everybody has a story."
The details may vary – but at the core, the underlying theme involves the challenges of adjusting and managing a new reality. This transition involves establishing new relationships, redefining one's sense of time and, in the words of resident Carol Woods poet Peggy Cohen, a long-term process of "letting go."5
Visual reminders of aging are pervasive. Walkers, motorized scooters and frequent memorial services for recently deceased residents are reminders that residents have entered and live on a "one-way street." There are no exits, and all are aware of how the story ends.
Yet awareness of the ending changes one's concept of time – and changes the priorities and interpersonal relationships that develop among the residents. Time becomes a precious gift, to be used wisely, and its power affects personal priorities and forms enduring friendships.
The Character of Carol Woods as a CCRC
What factors foster, facilitate and support residents in managing the aging process? The transition begins with the simple decision to be placed on a waiting list – and extends to the formal admission and assimilation process. This continuum of actions includes important decision points in meeting the challenges of aging and transition to life within a CCRC.
The admission process is a lengthy and carefully orchestrated formal process analogous to admission to graduate school or an elite professional organization. Over the years, Carol Woods' reputation as a liberal and progressive CCRC has attracted/self-selected applicants with similar social values.
Depending on the requested accommodation, waiting lists vary from a few months to  years. Once a requested accommodation is available and the applicant accepts the offering, the formal admission requires: 
Completion of a lengthy written questionnaire, financial audit, and  comprehensive medical exam and certification by a medical doctor that the applicant is capable of independent living;
A day-long series of personal interviews with the CEO, CFO, nurse, and social worker;
Completion of a baseline  cognitive screening test.
Review and decision by the Admissions Committee  
Being accepted  provides a sense of relief and security. It is a solace to know one is assured access to quality, long-term care based on "the values of individual and community well-being."6
Assimilation
Formal acceptance is necessary but not sufficient to manage the transition successfully. A set of actions that occurs over time eventually becomes the "new normal." The process is aided by the very structure and operations of the organization. Several distinct activities are worthy of note. 
New residents are assigned a mentor to provide help as the resident transitions to life at Carol Woods. Members of the resident's Newcomers Committee initiate and manage invitations to a newcomer's reception and a series of dinners with other newly arrived individuals. Such activities ease the transition and reinforce that Carol Woods is a community, "that the whole is greater than the sum of the parts."
The physical layout of the campus facilitates casual interaction among residents. All apartments have easy access to the dining and meeting facilities through covered walkways connecting the buildings and elevators that facilitate interaction among the residents. Residents in cottages are within easy walking distance of one of the walkways and then may access the dining room, meeting rooms, gym and pool. The campus is surrounded by trees and landscaped with thoughtfully placed benches that foster casual conversation and the opportunity to meet and build friendships within the residential community.
A management structure built on resident participation collectively oversees various components of the CCRC, aided by a cadre of support personnel who provide and promote "active aging" Activities tailored to the  needs of residents in meeting the challenges of aging. Management is responsible to a board of trustees composed of community leaders, and being a 501c3 organization ensures that the many programs and planned activities within Carol Woods contribute to the welfare of the larger Chapel Hill area and its residents.
Resident participation is invited and expected at all levels of operation. An elaborate committee structure deals with various policy/governance and operational issues, as well as an array of interest groups. The participatory structure fosters a "sense of ownership" and a constant reminder of the contributions of former residents and their legacy of programs and activities, of which current residents are the beneficiaries.
Closing Thoughts – A Personal Note
 
In the end, aging remains a solitary journey, but it is aided by the supportive environment of a CCRC.  I value this community of residents, all of whom have a story and have traveled this path, providing counsel, insight, and in some cases, alternative role models in meeting the challenges of the aging process.  Advice and counsel for which I am most grateful. Finally I am indebted to my friend and colleague Linda Kastleman, who through careful editing, translated my personal reflections into a document that I hope others will find interesting and helpful.
References
1 Didion, Joan. The Year of Magical Thinking. New York: Alfred A. Knopf, 2005, page 3.
2 Gawande, Atal. Being Mortal: Medicine and What Matters in the End. London: Profile Books, 2014.
3 See https://www.ioaging.org/aging-in-america.
4 Carol Woods Statement of Mission, Revised and Adapted, January 2009/Sept. 27, 2011.
5Cohn, Peggy. "Letting Go." The Carol Woods News, Vol. MMXX, No. 2 (February 2020).
6Carol Woods, op cit.
About the Author – Arnold D. Kaluzny
I joined the Carol Woods community in fall 2018. The move constituted a major life transition for me. A long-time resident of Chapel Hill, I served as faculty member at the UNC Gillings School of Global Public Health and was affiliated with the Sheps Center for Health Services Research, the Lineberger Comprehensive Cancer, and in the early '70s, the Carolina Population Center.
Over this time, I shared a life with  Barbara, my wife and   partner  for 56 years, raising our two daughters, Carrie and Melissa, and having the privilege to work with dedicated and outstanding students, research scientists and clinicians at UNC, the National Cancer Institute and the larger global health services research community.
It has been a life that exceeded all expectations – one driven by the serendipitous nature of the many challenges and opportunities one faces over time and highlighted by the importance of people and personal relationships. Within that spirit and with that expectation, I look forward to the remaining years. I am fortunate to be part of a community with a shared mission and values, one designed to help me manage the reality and challenges of aging.