Blooming Geniuses!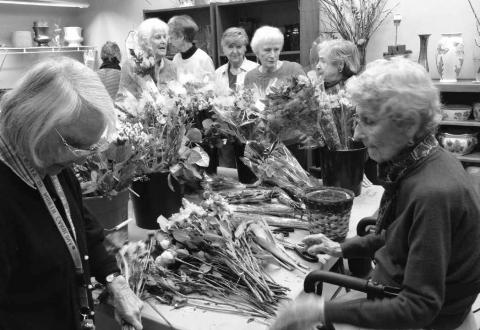 April 14, 2016 -
"Who does your flowers?" Given the artistry and creativity of the arrangements, visitors often assume we have a contract with a florist. Occasionally, they look doubtful when told that the arrangements in the reception area, social lounge, dining room and at some special events have all been created by our residents. But, like so many things at Carol Woods, our flowers are done by a committee.
There has been a flower committee of some size and form since 1997. When officially recognized by the Residents Association in 2001, it gained access to a small budget but still had to partly depend on an inconsistent supply of flowers donated by churches or individuals and on those grown in the Farmers' Garden.
In recent years, major changes have made the committee's work easier, more consistently artistic and gratifying. SuSu V. dealt with the flower availability problem by talking Trader Joe's into donating "sell bydate" flowers to Carol Woods. Beth S. (currently an Early Acceptance resident) picks them up every Friday and, with staff member O.C.'s help, brings them into the newly decorated Flower Room across from the library. After sorting the flowers, the committee places the "extra" blooms in the hallway for residents to take to their apartments.
A committee of this size often has difficulty organizing its members and responsibilities. Not so the Flower Committee. Mary H. plans a quarterly luncheon (complete with flip chart) at which each member (or pair of members) volunteers for a week of flower duty during the following twelve weeks. Each of the committee members has a distinct style and residents often want to know who created an arrangement they particularly enjoy so that they can convey their appreciation. Thus, SuSu has created small cards for arrangers to place by their creations. Sometimes they forget to do it, but we need to let all of these hard working and talented residents know how much pleasure and beauty they bring to us.