Resident Business Center and Computer Room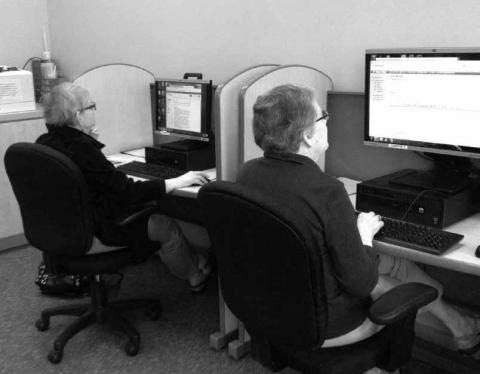 April 20, 2016 -
What a long way we've come! In 1997, the efforts of an ad hoc committee of interested residents resulted in a computer room that was described as "a motley collection of donated computers and printers." In 2016, the newly remodeled Resident Business Center and Computer Room offers an attractive, well-designed space with many more resources in a single convenient location.
We rely on computers to do online research, check e-mail, produce high quality color posters, prepare documents and many other computer functions. So this is a welcome addition to Carol Woods.
In the early days of the Computer Room, its purpose was primarily instructional; volunteers offered classes on computer basics and tutors were available whenever the room was open. Now, approximately 85% of residents are adept at using their own computers, tablets, e-book readers, etc. However, they look to the Computer Room for convenience and access to resources they do not have at home.
To meet this changing demand, the schedule has greatly expanded. Just think, 20 years ago the Computer Room was open for four hours a week. In fact, up until this new reorganization, the room was only open during regular business hours. Now, the Computer Room is open from 7:00 a.m. to 10:00 p.m. seven days a week. And the Business Center with its copier and fax
machine never closes.
Like many projects at Carol Woods, this new Business Center and Computer Room is the result of a long and deliberate planning process, with input from many individuals and groups. The Computer Room Committee (now a subcommittee of the Information Technology Advisory Committee) played a key role. In addition, a special Computer/Business/Technology Task
Force was convened by the Resident Council in 2013-14 to assess a variety of technology needs and expectations expressed by residents. A survey conducted at that time showed there was a large demand for a central resource, and the Task Force recommended updating and expanding the Computer Room.
A budget request for this expansion was submitted to Carol Woods for consideration as a capital expenditure. After budget approval, the brainstorming began to translate the original wish lists into a workable plan. The Decorating Committee was invaluable in helping design a functional space that blends well with the nearby Social Lounge. Thanks to Carol Woods staff, the remodeling process went surprisingly smoothly.
So, from the original "motley collection of computers" of 20 years ago, we now have a space that offers a copier, a fax machine, a locked bin for confidential shredding, and six computers and three printers (including a color laser printer). The room has an efficient and attractive layout with less clutter, improved lighting, and furniture that offers better privacy. Come visit!
-- Written by Carol Woods resident Jane A.