Leaders and Mentors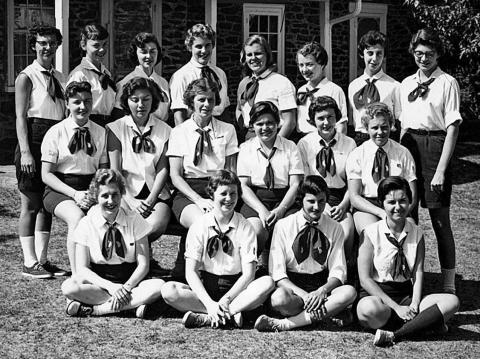 May 19, 2017 -
Many of our residents have dedicated themselves to serving young people over the years. Some of their stories are funny, some are poignant and others are informative; but they all speak to the critical role that leaders play in forming the next generation. Just for fun we included a lesson learned for each story.
Linda T.  grew up in scouting from Brownies to Seniors. She became a Curved Bar Scout and cherished her time with her troop and in summer camp. Years later she was a den mother for her sons' Cub Scout troop, and when her daughter became Brownie age, Linda led her troop. Interestingly enough, eight of Linda's Girl Scouts have parents at Carol Woods and all remember the excellent job she did with her troop. Lesson Learned: Girl Scouts by the hundreds merit a badge in perseverance.
Anne W. was the leader of a Chapel Hill Girl Scout Junior Troop in 1968. Racial integration in schools had just opened up in the state – an historic time. Anne asked that her new troop be integrated. The patrols were deliberately mixed, and it all went very well. The girls enjoyed each other, earned badges and made trips to Camp Graham on Kerr Lake.  Sometimes Anne and her husband Bill took a small group backpacking in the mountains. "Yes, we had rules, but the girls made most of the plans together, and they all had most of the fun." Anne's credo was, "I'm a leader because I want the world of your daughter and mine to be a world they can share and help shape; a world of love and laughter and compassion." Anne and Bill moved to England for four years in the late 1970s. She became a member of the World Association of Girl Guides and Girl Scouts. Lesson Learned: Children are often color blind.
Barbara K. also shares a Girl Guide story. "During my college vacations I was an assistant leader (Lieutenant) for a Girl Guide Company. One summer I took "my" Guides camping. At the end of the week, as we were waiting for our ride home, the girls and adults spread out in a long line. We walked from one side of the field to the other, in order to pick up any trash we might have left behind. I pointed out a candy wrapper to the girl beside me. 'Oh, no, Miss,' she said. 'That isn't mine. I didn't bring that kind . . .."' Lesson Learned: Responsibility is in the eye of the beholder.
Andy D. describes his experience as an assistant scout leader to Troop 835 in Chapel Hill. "For one overnight camping trip to Orange Lake, Paul Trembley, the troop leader, gave each pair of scouts a chicken to prepare for dinner. The catch was that the chickens were alive! The boys had to kill their chicken, clean it and cook it before they could eat it. I still have memories of headless chickens racing around the camp area, boys covered with feathers and ingenious cooking practices. One pair of boys built a fire and crafted a tripod of sorts that straddled the fire. They tied a string to the top of the tripod contraption and hung their chicken by the neck. The bottom of the chicken cooked as it hung over the fire, but the string burned and caused the whole chicken to drop into the fire. The boys repeated the process by tying the chicken up by its feet. When that part was done, they would tie it up by a wing. Although that chicken was blackened from the many falls into the fire, it remained undercooked.  (Andy reports no one got sick.)  Lesson Learned:  Not everyone can be a gourmet cook.
Church-related Youth Groups
Sally W.  was leader of a seventh grade youth group composed of six boys and six girls, with a battle line drawn between them. She handed out sheets of paper and asked each child to write down a topic that he/she would like to discuss. (Anonymity was important.) The papers were put into a box and then randomly drawn. She was stunned by the result. Topics ranged from bullying to the death of a beloved grandparent (or pet); from the impact of parents' divorce to fears of academic failure; from budding sexuality to future career choices.  "At the end of our time together, the children insisted on continuing the format the following week, and the one after that, and the one after that . . ..  The amount of growth I saw that year astonished me." Lesson Learned: Cohesion comes with sharing.
Katherine and Toby S.  were advisors of the 7th and 8th grade youth group at their church. One year, they decided to take a Thanksgiving feast (prepared by church members) to share with a group of young men at the Polk Youth Center, a medium-security facility for 18 to 21-year-old offenders. "When we arrived, we discovered that we couldn't enter the prison with a carving knife. Duh!!!!  So we carved the turkey on the tailgate of our station wagon and shared a wonderful meal with the Polk prisoners. Homemade sweet potato pie seemed to be a favorite."  Lesson Learned: Every problem has a solution (of sorts).
When Jim and Betsy B. moved to Atlanta in 1962, they started attending Emory Presbyterian Church, and Jim was drafted to become the leader of the Youth Group. "The Civil Rights efforts had started and Martin Luther King, Jr.'s name was well known, as was King's father, the pastor at Ebenezer Baptist Church in Atlanta. Our pastor had been active in civil rights efforts, and the Youth Group was well aware of racial tensions in the community and in the country. Our pastor learned that Martin Luther King, Jr. would be at Ebenezer on a particular Sunday evening and arranged for our group to have a discussion with him. What a spirit he projected and what an influence the experience had on all of us!" Lesson Learned: Great people provide great memories.
Jean D. and Larry R. advised hundreds of UNC students in their roles as academic advisors. Subsequently they interacted with students through the Chapel of the Cross campus ministry. Jean relates, "We attended weekly meetings, went on beach retreats and initiated a Saturday morning breakfast cooked in the campus center using turkey eggs from a friend's turkey farm. Those turkey egg breakfasts became the talk of campus and brought in many non-Episcopal students. Students even brought their families to eat with us before attending football games. Larry has always been a model of tremendous caring, seemingly infinite patience and profound faith. Modeling these behaviors was possibly the most precious gift he gave to the students as well as to others around him."  Lesson Learned: Cook it, and they will come.
Nancy G. writes, "Our little town in south Texas was among the winter destinations of Yankees who couldn't afford the Florida Keys -- same tropics, same latitude. And so it was that, as regularly as birds migrating south, the 'Bilby Boys' arrived each fall. They were special needs sons of wealthy families who lived in group homes both in New England and in Texas.  They appeared every Sunday at the First (and only!) Presbyterian Church there. I befriended the Bilby Boys because it seemed 'The Thing To Do.' The group parents would deliver them to church, and the boys and I would sit together, taking up a whole pew. In our youth group, I played the piano, stumbling my way through hymns, but it didn't matter one bit to them. They loved it! Though their speech was limited, they smiled their appreciation. Their Texas home had an adult-size tricycle in the front yard. Its disappearance early each spring heralded the departure of the Bilby Boys as certainly as the birds took flight for northern horizons." Lesson Learned: Patience and music often go hand in hand.
Camp Counselors
George H. was the nature and camp-craft counselor at Camp Choconut, in northern Pennsylvania. "We had a small cabin, a hut really, in which the boys and I gathered what we could, nests and eggshells and the like, and we had a couple of terraria for salamanders and frogs. When I was younger, I had kept two small garter snakes in a cage which I had made myself, and I brought that cage to Choconut in hopes of finding some little snakes. One of our campers was a local boy, and he told me he knew where there were some big garter snakes. One day, I went into the hut and, lo and behold, the two largest garter snakes I had ever seen, sleek and unusually dark, were there in the cage. Bill had caught them and put them in. I was scared of them; they looked tough. But, hey, I was the counselor! So I cautiously slid back the lid and reached in and - they were cupcakes, completely tame. They didn't mind being handled at all, seemed to like it, in fact. So I never had to reveal my fear. We fed them frogs for a couple of weeks and then let them go." Lesson Learned: Not everyone is cut out to be a herpetologist.
Patt G. worked for two summers at a camp for children 7- 12 years old. The highlight each week was taking the campers to a horse-riding facility to ride and have a picnic. The younger girls were only allowed to ride in the ring and then had to wait two hours until lunch.  "Five of the girls eagerly responded to my suggestion that we walk along the riding trails in the woods.  We set out and for about 30 minutes enjoyed the coolness of the woods and the fun of identifying various plants. However, when I said it was time to turn back I realized that I was lost!  After about 20 more minutes we came to a narrow rural road.  It was hot, one girl needed to be carried and the others were becoming increasingly tired and unhappy. I assured them we were 'almost there,' though in truth I had no idea where I was.  Hearing a car coming, I gathered the girls off the road and turned.  I was excited to see it was the director of our camp, bringing the picnic to the stable. Thinking we could probably squeeze the six of us into the truck, I frantically waved, but to my distress he waved back and never slowed down!  Well, at least I now knew we were walking in the right direction!  About 10 minutes later we came to the stables. The director apologized and said he thought we were returning from a 'short' walk along the road." Lesson Learned: Never admit you are lost.
Nancy M. participated in a church sponsored "summer caravan" in California.  Each week they worked with a different youth program. "One week my assignment was counselor at a camp for 7- to 9-year-old boys from inner-city Los Angeles. One day I took my tent of eight boys on a hike up a trail. Seeing a short cut on the way back to camp I took the delighted boys off the trail and scrambled down a hill. An older counselor who had watched the operation asked, 'You do know that hillside is covered in poison ivy, don't you?'  Having grown up in Utah's high desert, I was as ignorant of this plant as were my little charges. Fortunately, after a group scrubbing with Fels Naptha soap I was the only one with a rash." Lesson Learned: Ignorance is not bliss.
Ruth W. describes her nine years (from camper to counselor) at a camp in the Pocono Mountains of Pennsylvania. One memorable experience was a canoe trip on the Delaware River. "After several hours of paddling along the Delaware River, sunbaked and tired, we secured our canoes on the sandy flat at the edge of the water. We were three counselors and nine campers. Each of us selected a comfortable place for our bedrolls, hoping to find one without rocks to keep us awake and miserable. The average person did not have modern camping equipment in those days. A few had sleeping bags, but the typical gear was a bedroll; no tents, no air mattresses. Campers in their teens were taught how to assemble a bedroll: a blanket with a poncho (usually borrowed) wrapped around it, tied with clothesline.  Some of the teens were phenomenally sloppy.  It was all very funny until a huge rainstorm came. Their bedrolls fell apart and they were obliged to sleep the rest of the night in wet blankets. They were just as casual with cooking over a fire. Their Bisquick rolls fell into the fire and they regularly burned their hot dogs and marshmallows. I often wonder what life is like for them today, especially if they had kids."   Lesson Learned:  Downpours and soggy blankets happen.