Complementary Therapies at Carol Woods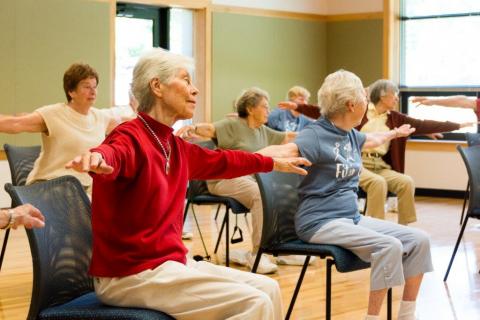 December 23, 2016 -
Carol Woods places a premium on providing excellent health care.  Not only do we have a Health Center providing skilled care, but also a Health Clinic staffed by four physicians and seven registered nurses (four full-time and three part-time), a geriatric nurse practitioner and a comprehensive Physical Therapy/Occupational Therapy Department. To put the icing on the cake, residents are offered an array of complementary therapies. Some of these services are free while others have a per session charge. 
Awareness Through Movement (Feldenkrais)
Awareness Through Movement is a program developed in the 1950s by Dr. Moshe Feldenkrais, an Israeli physicist and engineer. The method offers an approach to pain relief and disability that uses gentle movement to increase ease and range of motion. During Feldenkrais lessons, participants practice simple movements such as reaching, bending, turning and sitting up to improve posture, flexibility, strength and coordination, as well as to reduce pain. They explore how to move more comfortably, at their own pace and according to their needs and abilities.
Resident Jane B. has been participating in Feldenkrais classes for a couple of years.  She says, "The simple, sequenced movements of Feldenkrais give me an awareness of habitual patterns that are not serving me well and help me replace them with more efficient and less painful ways of performing daily tasks: walking, turning, working at the computer, playing an instrument, getting in and out of cars, opening doors, getting up and down from the floor, etc.  It's a great way to take a few years off my chronological age."
Karen Dodd offers two Feldenkrais classes each week in the Carol Woods Fitness Center.  On Mondays, the Floor Class is from 9:00 – 10:00 a.m. and on Fridays, the Seated Class is from 2:00 – 3:00 p.m.
Healing Touch and Aromatherapy
Healing Touch is based on the premise that the human body is surrounded by an energy field and contains centers that control the energy flow between the field and the body.  Developed by nurses in the 1980s, the practitioner uses her/his hands on or above the body to assess and gently manipulate the client's unique energy field and reactivate the mind-body-spirit connections to promote the body's innate ability to heal.  Healing Touch therapy complements conventional medicine and may be used as part of an integrated healing program. The therapy aims to decrease the need for pain medication, enhance the immune system, assist recovery from surgery and chemotherapy and promote deep relaxation to reduce stress and anxiety and improved sleep.
Aromatherapy originated in Europe and has been practiced since the early 1900s. Practitioners believe the fragrances in the oils stimulate nerves in the nose, which in turn send impulses to parts of the brain that control memory and emotion.  Depending on the particular essential oil, the result may be calming or stimulating.  The oils are thought to interact with hormones and enzymes to cause changes in blood pressure, pulse and other functions. 
Resident Mary E. believes we are lucky to have both Healing Touch and Aromatherapy at Carol Woods. She cites improvement of a "cranky" neck as well as the end of some intestinal difficulties. "Chris has helped me get to sleep at night and has been especially helpful with grief on a painful anniversary."
Chris Clark, RN, LMBT, CHTP, is one of the registered nurses in the Carol Woods Health Clinic.  Appointments for Healing Touch and Aromatherapy can be scheduled through the clinic. 
Massage Therapy
Massage therapy is the manipulation of muscles, connective tissue, tendons and ligaments to enhance a person's health and well-being.  It is known to affect blood circulation, reduce muscular tension, provide stimulation to the nervous system and enhance tissue healing.  Residents seek massage therapy to reduce stress and anxiety, rehabilitate injuries, reduce pain and promote overall health and wellness. 
Massage therapy has a 4,000 year history, with references found in Chinese medical texts, and has been advocated in Western health care practices since the time of Hippocrates.  Modern scientific massage therapy was introduced in the US in the 1850s by two New York physicians, George and Charles Taylor, who had studied in Sweden.  Today, massage is one of the most popular healing modalities.
Touch is the fundamental medium of massage therapy.  It involves applying degrees of pressure and movement, and the massage therapist must be sensitive to determine the optimal amount of pressure to use for each person.  Touch allows the massage therapist to locate areas of muscle tension and other soft tissue problems. 
Swedish massage is the most commonly used form of massage. It uses a system of long gliding strokes, kneading and friction techniques on the more superficial layers of muscles, usually in the direction of blood flow toward the heart.  Deep tissue massage is used to release chronic patterns of muscular tension, using slow strokes and providing friction across the grain of the muscles.  It is applied with greater pressure.
Denise Hyman, RN, LMBT, is the massage therapist at Carol Woods.  She provides both Swedish and deep tissue massage either in the Fitness Center or in the Health Center. 
Tai Chi
Tai Chi has been described as a gentle way to fight stress.  It is an ancient Chinese tradition that focuses on moving from one posture to the next without pause.   It puts minimal stress on muscles and joints and is suitable for older adults who might not be able to do other forms of exercise.  It has often been described as meditation in motion. 
The practice of Tai Chi increases energy and stamina, improves muscle strength, flexibility, balance and agility.  Adherents note decreased feelings of stress, anxiety and depression.  Some evidence indicates that Tai Chi may enhance the immune system, help lower blood pressure, improve joint pain and reduce the risk of falls in older adults.
Tai Chi is offered by resident Martha Bowman on Wednesdays at 9:00 a.m. in the Third Floor Lounge of Building 1 and on Fridays at 9:15 in the Community Room. 
Yoga
Yoga originated in ancient India.  Yoga gurus from India introduced yoga to the west in the late 19th century.  Yoga, in the Indian tradition is more than physical exercise.  It has a meditative core as well.  Western practitioners have begun to turn to yoga because it enhances healing.  Major health care centers recognize it as a practical treatment for many ailments. 
 At Carol Woods, Joy Gornto offers two sessions of Gentle Joy of Yoga on Tuesday and Thursday at 1:00 p.m. in the Fitness Center.  She takes a more gentle approach as the course is designed with the senior body in mind.  Resident Ann G. noted that yoga makes her feel strong and relaxed and more in touch with her body.  "Joy gives clear instructions to lead us through a series of poses, suggesting that we go at our own pace and follow our own path."  Movements and positions are done on the floor and modifications are available for those who need them.
What else can you do to increase your well-being?
In addition to these specific complementary therapy offerings, the Carol Woods Fitness Center offers myriad programs to address the general well-being and fitness of its residents.  Many of these programs lead to better balance and less risk of falling.  Look for the Activities Calendar (on the back of the menu listing) in your Friday Memo or go to Carol Woods Online to see regularly scheduled classes, including aquacise, cardio 'n tone, upper body conditioning, core strengthening, balance in strength and back care exercise.  Complementary therapy and classes at the Fitness Center provide something for everyone!
--Carol Woods Resident Sindy B.