Carol Woods is Featured in Moira Welsh's New Book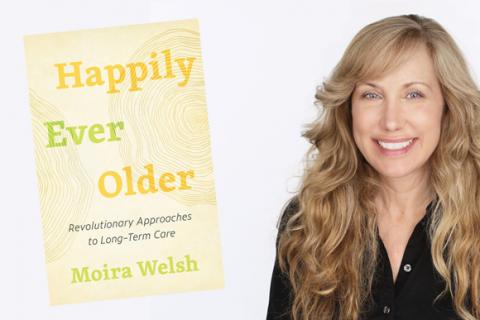 March 4, 2021 -
Carol Woods is featured in a new book exploring how those living with cognitive decline are leading lives filled with purpose, connection and friendship. Happily Ever Older by investigative reporter Moira Welsh explores different ways of supporting older adults with dementia and how approaches that challenge the status quo are succeeding.
Moira, who has reported on nursing homes for 18 years, heard about Carol Woods' innovative approach and visited our community in 2019 for a few days to meet with residents and staff and to observe the community in action. In chapter 8 of her book titled "Carol Woods and the Importance of Freedom" she talks about our philosophy of inclusion when a resident has cognitive changes.
"Oh my gosh, I would live there," Welsh said in an interview. "It was so wonderful. And I think it really pulled in for me unexpectedly the real need for the connection to nature, at any age obviously but certainly as one grows older. Now that's a community."
Instead of locking up or segregating residents in "memory units," Carol Wood embraces an inclusive philosophy where residents living with cognitive decline have the freedom to continue being members of the community - eating in the main dining room, walking around campus, being a part of groups, participating in activities and making their own decisions. We strongly believe our community is more vibrant when all are included and we all care for each other.
Happily Ever Older offers a deep and varied look at different and innovative approaches to support those living with dementia and challenges us all to improve the experience of aging.