Carol Woods- A Beautiful Green Island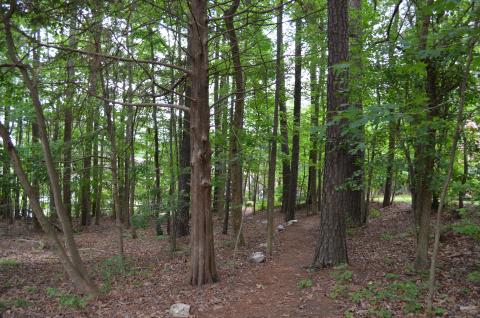 February 2, 2022 -
In many communities, housing developments spring up and are named after trees that used to be there— Hickory Hills, The Oaks, Dogwood Acres. Those trees once dominated the landscape, but they were removed to make way for the houses. Not so at Carol Woods. The founders of our community wisely left many of the trees to shade the houses they built. And, even more wisely, they left extensive tracts of forest untouched by the construction crews. Our woods include dogwoods, redbuds, beeches, pines, tulip poplars, and multiple species of oaks and hickories. Perhaps half of our 120 acres is covered by this wonderful diversity of trees and the other plants associated with them, growing in the understory. The result is our "beautiful green island" in the middle of extensive residential and commercial development on our side of Chapel Hill.
A small group of residents, led by Susan Barco, contacted the local New Hope Audubon Society (NHAS) to have them visit our campus and help us assess its biological health and diversity. The NHAS Bird Friendly Habitat Certification program was established to aid homeowners in setting up their yards as small but significant habitats for birds. One yard might not make much of a difference, but 25 yards in a neighborhood become the equivalent of a small parkland. NHAS has recently expanded their program to reach out to small communities like ours and even to commercial developers who want to be good environmental stewards of their property.
After two trips to Carol Woods, the NHAS site visitors analyzed the information they had gathered from seeing our residential areas, open spaces, and of course our forested areas. The result: they awarded us their highest rating, a platinum certification! From their experienced point of view (they have done more than 100 assessments), they felt that we have more than just a beautiful place to live. They were particularly impressed with "the quality of natural areas and canopy trees." They noted several other features that promote wildlife: our large ponds and retention basins, our bird and bat houses, our leaving dead snags and nurse logs in safe places when trees die, our minimal use of non-organic fertilizers, our gardens that attract pollinator insects, and more.
In short, we are providing a diverse environment that supports the health of many species of organisms, from bacteria and fungi in the soil, through plants and worms and insects, and even amphibians, reptiles, birds, and mammals. (Side note: since moving into Carol Woods in late February 2021, I have already seen 50 species of birds.) We are, indeed, living in a diverse and "beautiful green island."
– Norm Budnitz
*This is an excerpt from an article that Norm wrote for the January 2022 edition of the Carol Woods News.