Barn Quilts Come to Carol Woods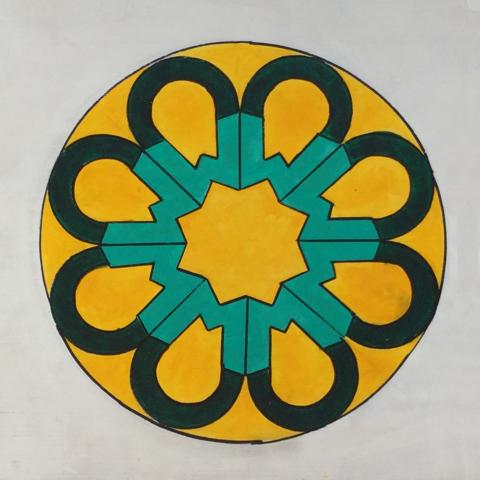 September 23, 2016 -
In late spring, residents from assisted living and the health center gathered with members of the Life Enrichment staff and the Art Committee to paint barn quilt squares. Barn quilts are single quilt square designs which have been enlarged and painted on a piece of plywood generally two to eight feet square. These quilts are displayed on barns or other outdoor spaces. 
The idea for the Carol Woods barn quilts came from a discussion with Robin H., Private Duty Gardner, and the Art Committee about how to decorate walls of the green roof on the third floor balcony in Building 4. During dry seasons, the green roof is less than green and needs a little color to bring it to life. The large showy and colorful barn quilt squares seemed to be a good fit.They could easily be seen and enjoyed from the inside sitting room. A total of six quilt squares have been completed. Plans are underway for an open house in the fall. 
History of Barn Quilts
In 2001, Donna Sue Groves created the first barn quilt square in honor of her mother Maxine Groves and their Appalachian heritage.  She hung it on her barn in Adams County, Ohio. She worked with the Ohio Arts Council and created a series of 20 quilt squares which could be placed on a driving trail to encourage visitors to travel through the countryside. Since then the concept has spread across the US and Canada. Arts organizations and tourist offices distribute brochures and maps of driving tours. 
Donna Sue Groves traveled to Iowa and then Kentucky (now the home of over 800 barn quilts). Quilt trails are created by quilt guilds, civic groups, local arts councils, 4-H clubs, school groups, etc. Most are countywide efforts which provide a distinct quilt trail and create local pride in the project.
History of Barn Quilts in North Carolina                    
Seven counties in the northwest corner of North Carolina currently have more than 200 barn quilts on display.  In 2007, Watauga County became the first to paint and hang barn quilts.  Doyle Pace was chair of the Watauga's Barn Quilt Committee for several years.  The Blue Ridge Electric Membership Corporation agreed to sponsor the project by hanging quilt squares on barns. In addition to Watauga County, they can be found in Ashe, Haywood, Madison and McDowell counties. Yancey and Mitchell counties have the highest concentration.
After the fall open house, we encourage you to stop by the third floor of Building 4. Be sure to look at the quilt square representing Carol Woods, which I designed!
--Carol Woods Resident Doyle P.